The conference for parents and educators, "What you see in the nest will be in the flight" has taken place, but the impressions are still lingering, and there are many of them.
The conference brought together parents, educators, and future parents, making me feel like a part of a large group, which confirms the concept of happiness. I am one of those who are nearby.
I'm glad that I finally tried a new format in the fields of education, tourism, and recreation. Such a format was initially planned in the tourism business when creating the Karina Home guesthouse, specifically the integration of three crucial spheres: recreation, culture, and education.
I thank Bellevue Park Hotel for providing the opportunity to spend this day in one of the hotel's beautiful conference rooms. The touch of Latgale, represented by floral compositions growing in Latgale's fields and gardens, created an atmosphere of warmth and comfort, pleasing with their fragrance, beauty, and simplicity!
I am infinitely grateful that there were young people at the conference who are not parents or educators but who provided such deep feedback that it made me, as the conference organizer, consider organizing similar events for this target audience.
At the conference, we gained a wealth of emotions and knowledge from experts in humane pedagogy, as well as a musical gift from Atis Auzans, which captivated not only the hearts of Latvian guests but also international ones.
I am grateful to the Director of the Latvian Association of Humane Pedagogy, Irmina Pogrebnak and the Director of the Estonian Center for Humane Pedagogy, for their unique, emotionally rich depth of master classes, strength, and wisdom. I thank Marina Chaika a candidate in pedagogical sciences from Switzerland, for her emotional and powerful welcome to the conference participants.
At the same time, I would like to highlight the wonderful presentation by Svetlana El Zhuni , a mother of four sons who managed to achieve great success in the professional field as an IT specialist, but it did not hinder the creation of harmonious relationships within the family.
Thank you, Svetlana, for your support in organizing the conference.
I thank everyone for the feedback, which is evidence that humans need humans. People thirst for love, understanding, emotional balance, and spiritual growth, which make us strong, wise, and firmly rooted on this earth!
Parents' conference on International Children's Day with a concert programme.
03 June | Bellevue Park Hotel Riga
Knowledge exchange, workshop with experienced parents and spiritual development trainers.
9:30-18:00 | Renowned experts from different countries
The speakers will be professionals from Latvia, Switzerland and Estonia.
"Bezgalībā ieklausoties…" Karina Stivriņa un Atis Auzāns.
Competitions and surprises and prizes
Two special prizes from KARINA HOME, each worth €250, plus other prizes.
Latvian, Russian, Heart language
European Fund for Human and Social Pedagogy, Latvian Association for Humanistic Pedagogy, Estonian Association for Humanistic Pedagogy. KARINA HOME.
Our mission - Relaxed conversations in a cozy atmosphere that will provide insights into the basic principles of humanistic pedagogy.
An event that will help participants to broaden their outlook on life, show them how to build valuable relationships with those close to them.
The most heartfelt event
It will provide an opportunity for experts from different countries to share their experience and knowledge on the application of Humanistic Pedagogy in life, thus promoting understanding of unconditional love and growth in family relationships.
Pieredzējuši speciālisti no dažādām valstīm sniegs vērtīgus padomus, kas klausītājiem var noderēt personīgajā dzīvē. Tādējādi, konference palīdzēs veicināt zināšanu un prasmju pieaugumu gan topošiem vecākiem, gan esošiem vecākiem, kuri sastopas ar citas paaudzes dzīves uztveres atšķirībām.
Finally, visitors will have the opportunity to take part in cordial conversations, share their experiences and ask questions of the experts. The event organisers will provide coffee breaks and a concert programme, as well as raffles for valuable gifts.
Attention! Ticket distribution is provided by bezrindas.lv service. To go to the website, click the "Buy ticket" button.
The event will be useful if
On the challenges of raising children and family values. Hearing success and failure stories from experienced professionals from Latvia, Estonia and Switzerland.
From experienced professionals and real stories of how to build family relationships through love, wisdom and knowledge. How to be happy parents who can combine family life, self-improvement and career success.
Learn new practical methods to strengthen family values and apply them successfully in everyday life. Start doing what really interests you and gives you pleasure in life.
Cordial conversations in a cosy atmosphere and the opportunity to gain knowledge in one place. Enjoy the concert programme "Listening to the Infinite..." and have the chance to win surprise prizes.
Applying the knowledge gained will help to spark a new flame in family relations that will guarantee a successful future.
Experienced specialists from Latvia, Estonia and Switzerland. Meet and share with like-minded people. "Each one of us is also the sun, if there is room in our hearts for a smile to give to others." - Š. Amonashvili.
KARINA STIVRINA
"Principles for success in raising children. The commandments of unconditional love." (LV/RU)
Mg.paed, Knight of Humanitarian Pedagogy, head of the association "Training Centre "Light"", entrepreneur, inspirer, international masterclass leader, singer, winner of vocal competitions, winner of the award "New Tourism Service Provider 2022",Priežmale, Latvia.
SVETLANA EL JOUNI
''The path of love and support - family, children and me'' (LV/RU)
A mother of four sons with over 15 years of experience as a manager in the banking and IT industries; holds a Master's degree in Economics and Management from Riga Technical University; member of the Alberta College Board, business consultant; actively participates in social projects, member of the folk ensemble 'Ļanok' as a singer and actress; actively involved in the parent councils of her children's schools.Riga, Latvia.
MARINA BARANUK
"The wisdom of a mother's love - a guarantee of a successful future." "Dialogue communication between parents and teachers or how to avoid misunderstandings and conflicts" (LV/RU)
The director and pedagogical consultant of the Estonian Center for Humanistic Pedagogy. A champion of humanistic pedagogy, a recipient of the 'Heart and Rose Knight' badge of honor, and an awardee of the 'Contribution to Education Development' medal of honor. He is also a laureate of the 'Mission in Education' prize. He is the author of the books 'Touch Children with Love' and 'How the Bright Angel Wins.'Tallinn, Estonia.
MARINA ČAYKA
'"What is important for every parent to know!" (RU)
A lecturer at the Swiss State University of Pedagogy, a candidate of pedagogical sciences, and an expert in etiquette. She is an invited professor of intercultural pedagogy and aesthetics of international communication at the Swiss State University of Pedagogy in the city of Lucerne. She is also the founder and director of the Swiss Academy of Education and Consulting, an international education and consulting school located in Lucerne, Switzerland, under the handle @ese.chayka. She is the author of the first practical course in Europe on international sports etiquette and Fair Play rules.Lucerne, Switzerland.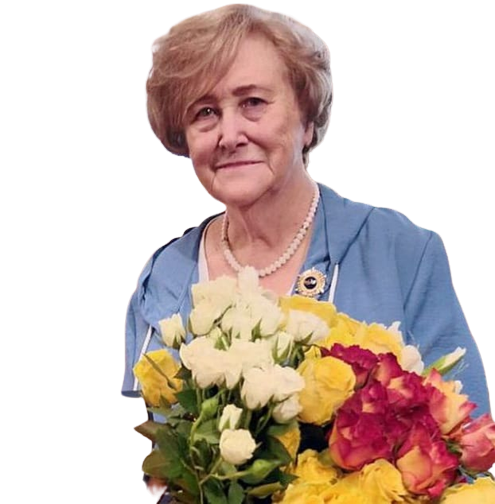 IRMINE POGREBNAK
'"The future is a bright, kind, happy gift." (LV/RU)
Hero of the Spirit of Humanitarian Pedagogy, leader of international masterclasses, vice-president of the Coordinating Council of the International Centre for Humanitarian Pedagogy, an international association of public organisations.Teacher of Latvian language at Riga Anniņmuiža Secondary School, Head of the Centre for Humane Pedagogy, recipient of the Riga City Council award "Golden Pen" for lifetime contribution to pedagogy.Riga, Latvia.
ATIS AUZAN
Musical performance (LV/RU)
Co-founder of Skaņuraksti recording studio and Sound Systems Ltd, Sound Systems is a company engaged in sound recording, sound design, event organisation. Songwriter, arranger.Riga, Latvia.
You need to be here because
Many questions will be answered about family relationships. How to build them so that family life brings happiness, joy, satisfaction, and is free from reproach and dissatisfaction. This conference is all about love and the power it gives.
The greatest value we have is people. We provide conditions for specialists and participants to communicate and learn from each other in a free atmosphere. Building new contacts always motivates. 
A unique atmosphere, filled with the spirit of love, compassion and inspiration, will bring emotional fulfilment to all participants. There will be many beautiful moments that will warm the soul of every participant.
Registration of participants
Introduction to the event.
Conference opening, Karina Stivriņa, Irmīne Pogrebņaka, Atis Auzāns
Introductory remarks by the organisers, musical performance.
"The wisdom of a mother's love - a guarantee of a successful future."
Leading ideaA: Parents have a role not only to educate their children and instil in them the right ideas about the world around them, but also to enable them to choose the path that will shape their adult lives! Only in this way will the child become an integral, independent personality who will adorn any society.
'"The path of love and support - family, children and me. 
Leading ideaA mother of four will share personal life stories of how to be a happy woman who is able to combine family life, self-growth and career achievements.
Free talks between participants and organisers, participation in masterclasses.
"The future is a bright, kind, happy gift." Leading ideaA: Mum and dad, give your children wings and fly with them, feel your power, listen, look, shape life and teach it to your children. The future starts with us, not with a change of day!
"What's important for every parent to know!"
Leading idea : "A mother's heart is an inexhaustible source of miracles." P.J. de Béranger
Principles for success in raising children. The commandments of unconditional love. 
Leading idea : "A person with the mental state of a smile is the sun of the Earth. Such people warm, protect and inspire us. We perceive them as charming, kind, sensitive and close. Each one of us is also a sun if we have room in our hearts to smile and give to others." Shalva Amonashvili
Free talks between participants and organisers, participation in masterclasses 
''Dialogue communication between parents and teachers or how to avoid misunderstandings and conflicts''
Leading ideaA: How difficult it is to take responsibility for our actions... How easy it is to look for external causes for our failures... But if we want to become masters of our lives, let us seek ways to purify our thoughts. Only pure thoughts can be powerful. 
Concert Programme, Atis Auzāns, Karina Stivriņa
Heartfelt songs for the mind and heart "Joy, where you are born!" 
Closure of the conference
Closing words from the organisers. Questions, answers, feedback.